Forneus

Biographical Info

Rōmaji

Forneusu

Also Known As

Leviathan

Physical Gender

Gender

Male

Relationships

Dungeon Capturer

Abilties

Metal Vessel

Sword

Status

Dungeon

81st
 Forneus is the current Dijinn of
Kei
 and is the Dijinn of Conquest and Ressurection.he is a Water dijinn
Appearance
Edit
Forneus appears as a large blue sea dragon with a blue under belly and black claws.He has a large shell on his back that appears to have four fins that allow him to tread through water.His long body is covered in coral scales.Placed around his body is various jewlery from The 81st  Dungeon.
Personality
Edit
Forneus is very chill and humble.usually he doesnt talk alot but does when asked various questions
Forneus orginally was King Solomons river guard for passengers that came and went from his city.Many people tried to capture Forneus but non prevailed until Kei.
Unknown at this point 
Abilities
Edit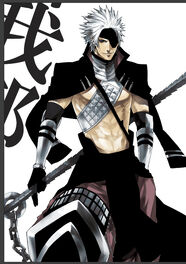 Water HealingEdit
 Forneus can heal with water as well as control it
Dungeon Capturer 
Edit
Forneus's was captured by Kei
Metal Vessel
Edit
Forneus's  Metal Vessel is a long turqoise blade that is one large sword.
Dijinn Equip
Edit
Kei appears to be wearing a bear chest with a silver chest peice that connects to his neck.Over his shoulders is a black sweater with silver accents.on his legs he wears a burgundy with black wrappings on his pants as well as metal nepads.On his arms he wears metal arm bands.Finally he was a large metal scythe with a chain on the end